Welcome to Our Reality:
   -- Things Are Not What They Seem
RICARDO BEAS Music -- Click Music Bar Below
RULES OF CRITICAL THINKING
First Rule:
QUESTION AUTHORITY
Second First Rule:
QUESTION YOURSELF -- FOR YOU ARE YOUR BIGGEST AUTHORITY
-- Professor/Activist Walter P. Mann III
--------------------------------------------------
Dedicated to
WE, THE FREE PEOPLE, the 99%
(not to be confused with "We The People" - the 1%)
Ricardo Beas - Café Peyote - Composer/Musician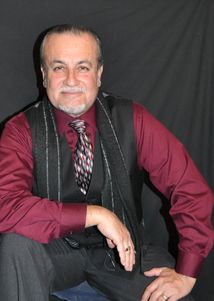 Ricardo has been a composer, guitarist and singer since his teens. In the 70's he played at singing cafes in Tijuana, inspired by such musicians as the Beatles, Pink Floyd, Led Zeppelin, King Crimson, Crosby Stills Nash & Young, Emerson Lake & Palmer and others.
In 2003 he started the Café Peyote project as the United States invaded Iraq for a second time. He knew it was time to start recording his music and expressing his thoughts on many issues that are now in the forefront of a world that is collapsing, all by design. In 2007 Ricardo met Luis Elorza, a talented multi-instrumental musician and producer, who helped fuel Ricardo's compositions into masterful songs that one critic described as textured acoustic space rock. With Paco Elorza playing drums and percussions, the Elorza brothers and Ricardo fused a style that is unique, melodic but heavy and whose lyrics merit deep analysis, as the message gets very personal with the listener.
As Ricardo states in his first cd's insert, "It's not easy to confront the truth, not when it shatters our beliefs. I'm here to make a statement and I might be wrong, but you have to decide Be objective – Use critical thinking! The first rule of critical thinking is Question Authority. The second first rule of critical thinking is Question yourself For you are your biggest authority."
Join Café Peyote and be a part of the change that must come, in others, but more than anything, in ourselves. Take your favorite drink, sit down and relax, and let Café Peyote take you through a musical experience that will help you understand why we are where we are today. Ricardo lives in San Diego, CA.